With its expansive landscapes and rich cultural history, Alberta has been the muse for countless artists. But for full-time Canadian artists like Ryan Groot, it's not just the vistas that inspire but also the personal journey from his experiences of growing up in the prairies to his love for snow, surfing and rock n' roll; it is an ever-evolving process of creation. 
Let's delve into the personal artistic journey of this renowned artist and understand the nuances of his creative process!
Ryan Groot's Humble Beginnings
Like many Canadian artists, his initial interactions with art were intuitive and self-taught, springing from a place of curiosity and wonder. Ryan discovered his passion by maturing his craft and perspectives through shared experiences such as:
Spending time in the mountains, exploring, skiing and snowboarding
Spending time on the beach chilling and surfing
Getting lost in rock n' roll
Surf
If you've never had the opportunity to experience the allure of Hawaii's waves, Ryan Groot's perspective might be the nudge you need!
"The instant I stepped off the plane in Oahu, and later Kona, I was utterly captivated," he recalls.
In an attempt to encapsulate the essence of Hawaii, Ryan has turned to creating surfboards. "I want my surfboards to replicate the feelings of catching waves at Hapuna or North Shore, or maybe just relaxing on the Lanai with a drink in hand," he explains. Each piece is a labour of love, crafted from repurposed wood sourced from shelving, furniture, and other finds.
Snow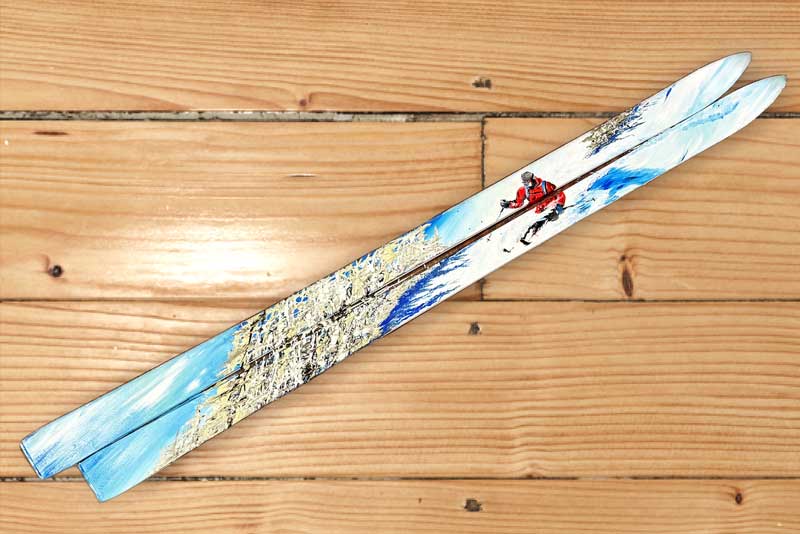 When Ryan Groot moved out west, the allure of the mountains became almost magnetic. His passion for the mountains soon found an outlet on canvas—or, more specifically, on boards and skis.
"I wanted to capture those raw, exhilarating feelings in my paintings. And what better canvas than on boards and skis themselves?" he explains.
In a nod to sustainability and creativity combined, Ryan innovatively sources their unique canvases. His artwork breathes new life into discarded gear, encapsulating the western mountains' ethereal beauty!
Rock N' Roll
From a tender age, the influence of rock n' roll was evident in this Canadian artist's life.
"My Dad always listened to the best tunes and still does," Ryan reminisced. He was raised on the timeless sounds of:
Led Zeppelin
The Beatles
Cream
Eric Clapton
Rolling Stones
However, as Ryan grew older, their musical horizons expanded. His personal hall of fame includes iconic bands like Metallica, Guns n Roses, AC/DC, Linkin Park, Pearl Jam, Rage, and Soundgarden. Therefore, Ryan's work, aptly named the "Rock N Roll Series," is more than just a nod to their musical influences. It's a tribute to the music he grew up with and, importantly, to his father. Through his Rock n" Roll series of art, he immortalizes the tunes and memories that have shaped him!
Ride the Waves, Shred the Slopes, Rock the Canvas!
This Canadian Artist's travels and passions throughout three coasts of Canada (and most provinces and territories in between) and various international destinations have been his muse!
Ryan Groot appreciates being able to take advantage of opportunities creating art has given him through hard work and his family's/friend's support. Because of this appreciation, he has always looked forward to giving back to the community by donating, volunteering or being commissioned by organizations that have a special meaning to him, such as the Calgary Health Foundation, to the Canadian Association of Adaptive Snowsports. 
Currently residing in Calgary, Alberta, he looks to start doing more Western-inspired creations, so stay tuned for what's to come. Get in touch with Ryan Groot for commissions. From surf to snow, support Albertan Art that rocks!